How to Invest
DoH aims to regulate and develop the healthcare sector and to protect the health of individuals by ensuring better access to.
Foreign Investors Ownership
of Healthcare Facilities
Learn More
Department Main Responsibilities
The DOH Investment Relations Department assists Investors in identifying healthcare needs by analysing the supply, demand and gaps by facility type, specialty and location.
Monitoring healthcare provision and its impacts on access.
Developing plans and initiatives to attract investors.
Publishing information on supply, demand and investment opportunities for all stakeholders.
EXPLORE HEALTHCARE SECTORS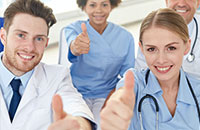 Abu Dhabi Health Workforce Plan
Last updated: 26 Sep 2023