Abu Dhabi Healthcare Information Security Programme
The Abu Dhabi Healthcare Information Security Programme - AAMEN, aims to ensure that all healthcare facilities in the Emirate of Abu Dhabi are compliant with the information security and data privacy standards required to protect sensitive patient healthcare data. The programme allows Department of Health to evaluate healthcare facilities for their compliance against the highest standards of information security, and provides the support needed to achieve world-class patient data privacy, securing the confidentiality of health information in its different forms, maintaining its accuracy and ensuring its accessibility.
Contact Us
Email: aamen@doh.gov.ae
Phone: +971 2 419 3612
Visit AAMEN Portal

The Strategy
Abu Dhabi Healthcare Information and Cyber Security Strategy
As part of AAMEN programme the Department of Health has released Abu Dhabi Healthcare Information and Cyber Security Strategy to serve as a framework that defines the important principles that guide the unique and comprehensive approach to continue enhancing the preparedness of Abu Dhabi's healthcare sector to securely and effectively mitigate cyber threats.
Department of Health is the first entity in the region to develop such strategy for the healthcare sector. It is part of ongoing efforts to further enhance information infrastructure of the healthcare sector. The new strategy will contribute to putting in place a cohesive and proactive response framework related to the current and future healthcare cybersecurity challenges for the Emirate of Abu Dhabi, while remaining focused on digital transformation through enabling technology, innovation and AI adoption in the healthcare sector of the emirate.
The strategy consists of six key areas of focus:
Cyber Security Governance
Cyber Security Resilience
Cyber Security Capabilities
Cyber Security Partnerships
Cyber Security Maturity
Cyber Security Innovation
AAMEN Programme Initiatives
As part of AAMEN Programme, Department of Health has developed the following instruments
setting the minimum cybersecurity protection requirements stakeholders must comply with…
As part of AAMEN program initiatives DoH seeks to strengthen the emirates healthcare sector cybersecurity, through partnering with the Abu Dhabi Healthcare CERT team to mitigate the cyber risks proactively while creating a solid infrastructure and an ecosystem for secure information sharing, as well as facilitating and ensuring business continuity.
Abu Dhabi Healthcare Computer Emergency Response Team – Healthcare CERT
As part of AAMEN programme initiatives Department of Health seeks to strengthen the emirate's healthcare sector cybersecurity, by establishing Abu Dhabi Healthcare CERT. The main goal of the Healthcare CERT, from a cybersecurity perspective, is to protect information, and the ability of critical infrastructures to continue to function. It typically monitors incidents at a sector level, identifies incidents that could affect critical infrastructures, warns critical stakeholders about computer security threats, and helps to build organizational CERTs in the public and private sectors.
Envisioned Scope
Security Advisories Newsletters
Cyber Threat Intelligence – Brand Digital Asset Monitoring
Cyber Incident Management
Forensic Assessment
Vulnerability Technical Assessment
Operating Threat Intelligence Platform

Contact Us
Email: ADHCCERT@doh.gov.ae
Phone: +971 2 419 3777 (24 x 7)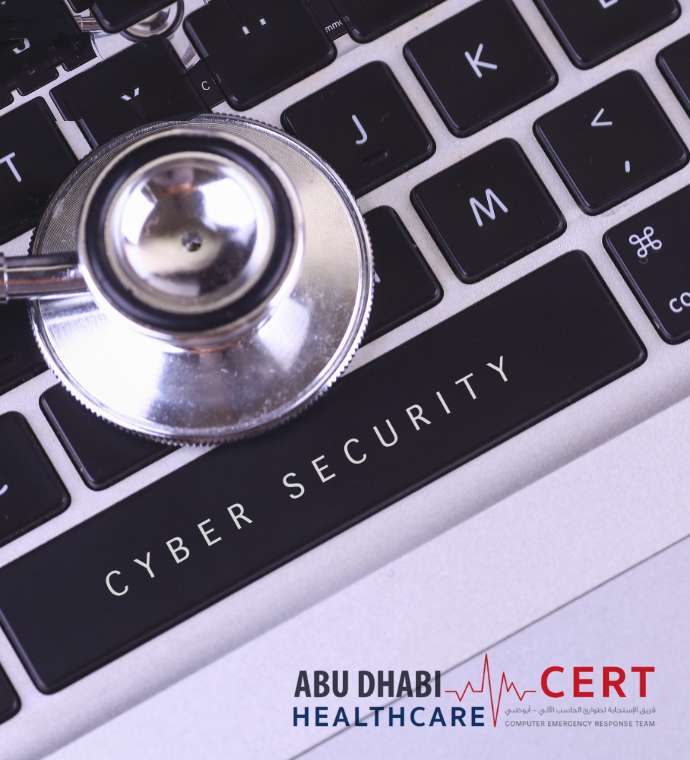 Last updated: 01 Oct 2023