News
DoH's Chairman visits Abu Dhabi Medical Devices Company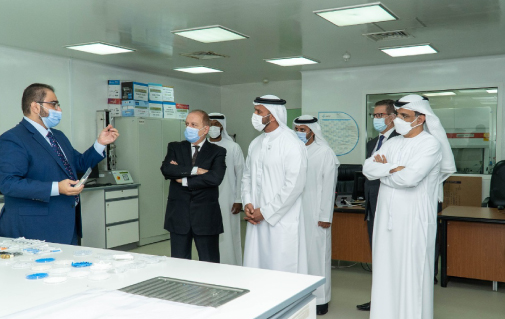 3 Feb, 2021: His Excellency Abdullah bin Mohammed Al Hamed, Chairman of the Department of Health – Abu Dhabi (DoH) today visited the headquarters of Abu Dhabi Medical Devices Company, accompanied by His Excellency Dr. Jamal Mohammed Alkaabi, Undersecretary of DoH and His Excellency Rashed Al Qubaisi, Director of Rafed Company, to review efforts to manufacture medical syringes.

The factory plays a key global role in contributing to the fight against the COVID-19 pandemic, in collaboration with international organisations. The factory will supply more than 500 million syringes and needles for the COVID-19 vaccine, which is equivalent to 25% of UNICEF and COVAX's global need for this year.

His Excellency was welcomed by Mr. Mounir Haddad, the CEO of Abu Dhabi Medical Devices Company, who took Al Hamed through the manufacturing process of medical syringes and other key medical equipment and supplies. His Excellency and Mr. Mounir also discussed the company's future expansion plans, which aim to meet the needs of the rapidly evolving healthcare sector in the Emirate, as well as reinforce Abu Dhabi's global position as a key player in the global medical supply chain.

His Excellency toured the company's factory, where several types of medical syringes are produced including single-use syringes, insulin syringes, needles, reuse prevention syringes in addition to auto-disable syringes, which is the product of a new technology that has been introduced in syringe manufacturing. The Abu Dhabi Medical Devices Company began producing auto-disable syringes in 2003, becoming the first auto-disable syringe manufacturing facility in the GCC region.

His Excellency Abdullah bin Mohammed Al Hamed stated that continuing to strengthen the medical industries in the Emirate is a fundamental pillar for providing effective, sustainable and readily available healthcare services to all members of the community. He highlighted that the healthcare sector in the Emirate of Abu Dhabi is an integrated health system operating at a competitive global level in manufacturing, research, development and logistics services.

His Excellency also noted that the vision of the UAE's leadership and the plans it has set in place made the Emirate of Abu Dhabi an integrated platform with high global competitiveness to attract medical tourism, the best medical professionals and provide an investment environment in line with international best practices.

His Excellency added: "We are delighted to visit the Abu Dhabi Medical Devices Company today, and witness its efforts in meeting all local needs at a national level, and its internationally advanced export capacity to support international efforts to combat this pandemic. Our visit today to Abu Dhabi Medical Devices Company reflects our dedication to ensure the highest standars of quality with regards to manufacturing. This underscores our efforts to maintain the healthcare sector's sustainability which is rooted in the championing of research, medical science and artificial intelligence in line with our wise leadership's vision that places sustainability as a pillar for a more prosperous future."

Since the early stages of the pandemic, the Abu Dhabi Medical Devices Company has provided Abu Dhabi's healthcare sector with more than 10 million syringes and locally manufactured medical needles with an outsnading quality and competitive prices, and by adding a production line for auto-disable syringes, the company has increased the annual production capacity by 120 million syringes. Additionally, the company will help meet the objectives of the World Health Organisation's (WHO) COVAX initiative to equitably distribute two billion doses of Covid-19 vaccines in 2021.

The Abu Dhabi Medical Devices Company, certified by the World Health Organisation (WHO), was established in 1999. The company annually produces about 810 million syringes and medical needles of which 110 million are single-use syringes, 460 million self-destructive syringes, 30 million insulin syringes, 100 million medical needles and 110 million reuse prevention syringes. Over the past two decades, the company has supplied more than two billion shots to more than 70 countries around the world.