News
Department of Health - Abu Dhabi kicks off its global collaboration with Partnership for Health System Sustainability and Resilience (PHSSR)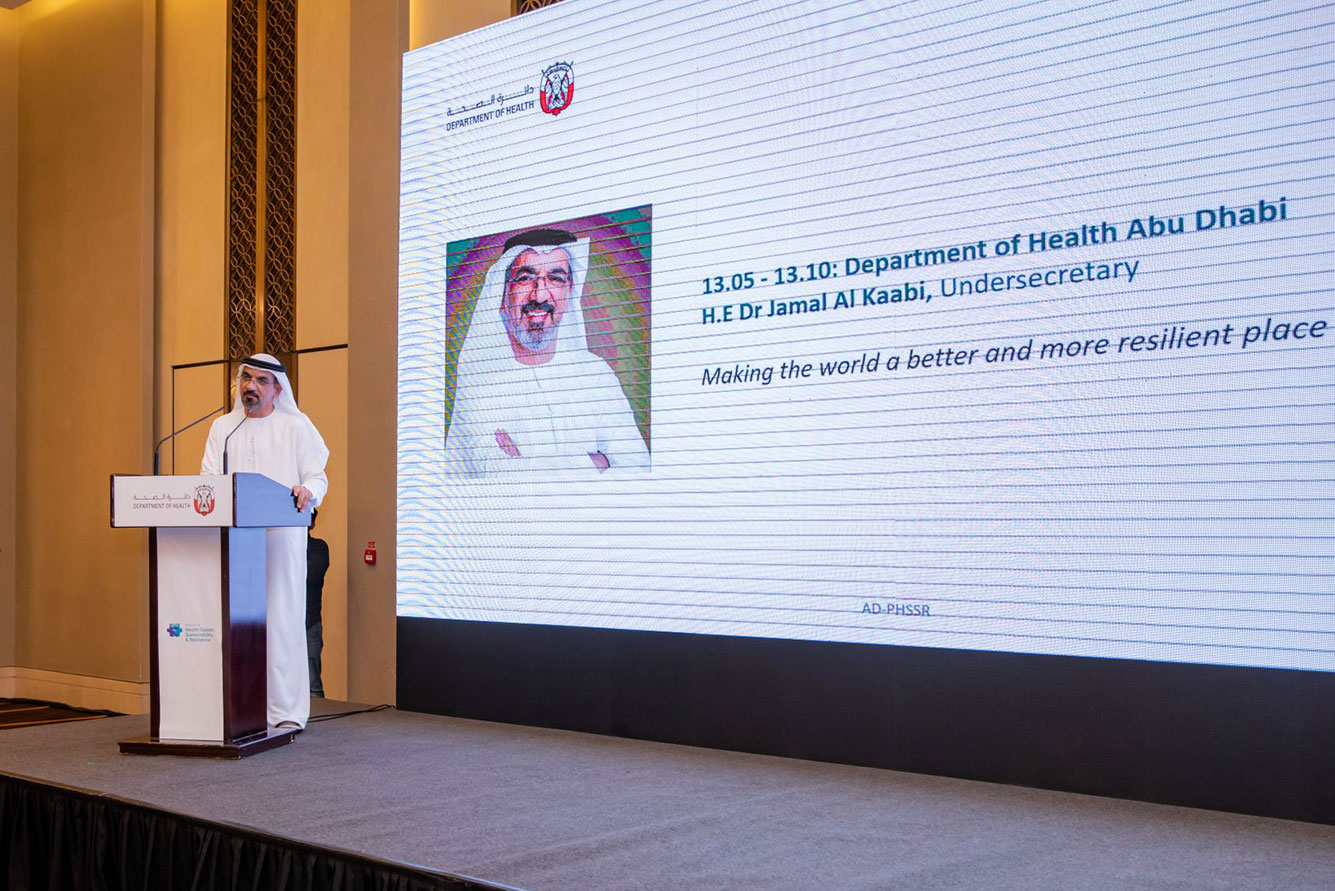 1 Dec, 2022:
The Department of Health – Abu Dhabi (DoH), the regulator of the healthcare sector in the emirate, is the first healthcare regulator to collaborate with Partnership for Health System Sustainability and Resilience (PHSSR). Established in 2020, the PHSSR is a global collaboration between academic, governmental, life sciences, healthcare, and business organizations. This collaboration intends to explore and provide solutions to key healthcare areas across clinical research, digital health, and innovation. Through this partnership, DoH launches the Abu Dhabi PHSSR research, targeting the analysis of the resilience and sustainability of the healthcare system in Abu Dhabi and the UAE.
Along with partners such as the London School of Economics (LSE), the World Economic Forum (WEF), AstraZeneca, Royal Philips, KPMG, Apollo Hospitals, WHO Foundation and the Center for Asia-Pacific Resilience and Innovation (CAPRI), the PHSSR aims to strengthen the global public health ecosystem and ensure that future health systems are able to prevent, respond to and recover from future crises, such as pandemic threats, natural disasters, climate change, economic and technological emergencies.
Active in 20 countries around the world, the PHSSR is building on the seven key domains covered in its research. Using a unique framework developed by LSE to identify strengths, potential weaknesses, opportunities, and risks; the domains will cover financing, governance, workforce, medicines and technology, service delivery, population health, and environmental sustainability. DoH supports a local yet multi-institutional researcher team, led by Khalifa University, to create opportunities by generating evidence-informed solutions and policy recommendations, while the PHSSR facilitates collaboration across borders and sectors, through knowledge exchange and engagement with international stakeholders in the healthcare sector.
H.E. Dr. Jamal Al Kaabi, Undersecretary of DoH, said: "Thanks to the vision of our wise leadership, Abu Dhabi is once again leading the way, both regionally and internationally, as a life sciences hub and a pioneer in healthcare innovation. DoH is proud to be collaborating with the PHSSR– a global initiative that will ensure that our future health systems are able to prevent and tackle future crises. This international collaboration, with the likes of the World Economic Forum, the London School of Economics and AstraZeneca, is part of our ongoing efforts to share our learnings and expertise and join hands with the leading healthcare experts and entities in the world, to ensure that the global community's healthcare infrastructure remains resilient and sustainable; both now and in the future."
Dr. Al Kaabi continued, "Participating in PHSSR's important work will be a culmination of a series of achievements Abu Dhabi has demonstrated in its successful response to the Covid-19 pandemic. The Department of Health – Abu Dhabi is keen to share its successes and learnings with the global healthcare community, in an effort to strengthen future health systems locally, regionally and internationally."
Sameh El Fangary, Country President for AstraZeneca GCC and Pakistan Cluster, said: "There's no doubt that the pandemic has placed unprecedented strains on healthcare systems, testing them to and beyond their limits. The UAE has handled the pandemic very well, and it is inspiring to see Abu Dhabi taking steps to share best practices and learnings, ensuring that it is crisis-ready for any future shocks, and tackling the growing burden of non-communicable diseases like cancer, diabetes, and cardiovascular diseases. Looking forward to seeing how the PHSSR framework can help build an even stronger, more resilient healthcare system in Abu Dhabi and beyond, as a result of this collaboration between academia, government authorities and the private sector."
Professor Alistair McGuire, Head of Department and Chair of Health Economics at the Department of Health Policy, London School of Economics, said: "The PHSSR is grasping the opportunity the pandemic has given us to act and address global health issues. We are turning research into action by working with over 20 countries to identify solutions with the greatest potential and support their adoption worldwide.
"The UAE has played an important role during the pandemic and Abu Dhabi has proven to be resilient in its response to COVID-19. We believe that by joining this collaboration, the Department of Health Abu Dhabi will be able to share best practices that could serve as a blueprint to tackle future pandemics."
Kelly McCain, Head of Healthcare Initiatives, World Economic Forum, said: "Resilient and sustainable healthcare systems require collaboration between stakeholders from across the ecosystem. We applaud the Department of Health Abu Dhabi for spearheading this mindset and driving this collaborative approach in the UAE."
From new models of care, to innovative financing mechanisms and breakthrough technologies, the PHSSR aims to identify transferrable solutions with the greatest potential and support their adoption to deliver better health and better care for all.
Last updated: 06 Dec 2023