News
The Department of Health - Abu Dhabi wins two awards for its digital government content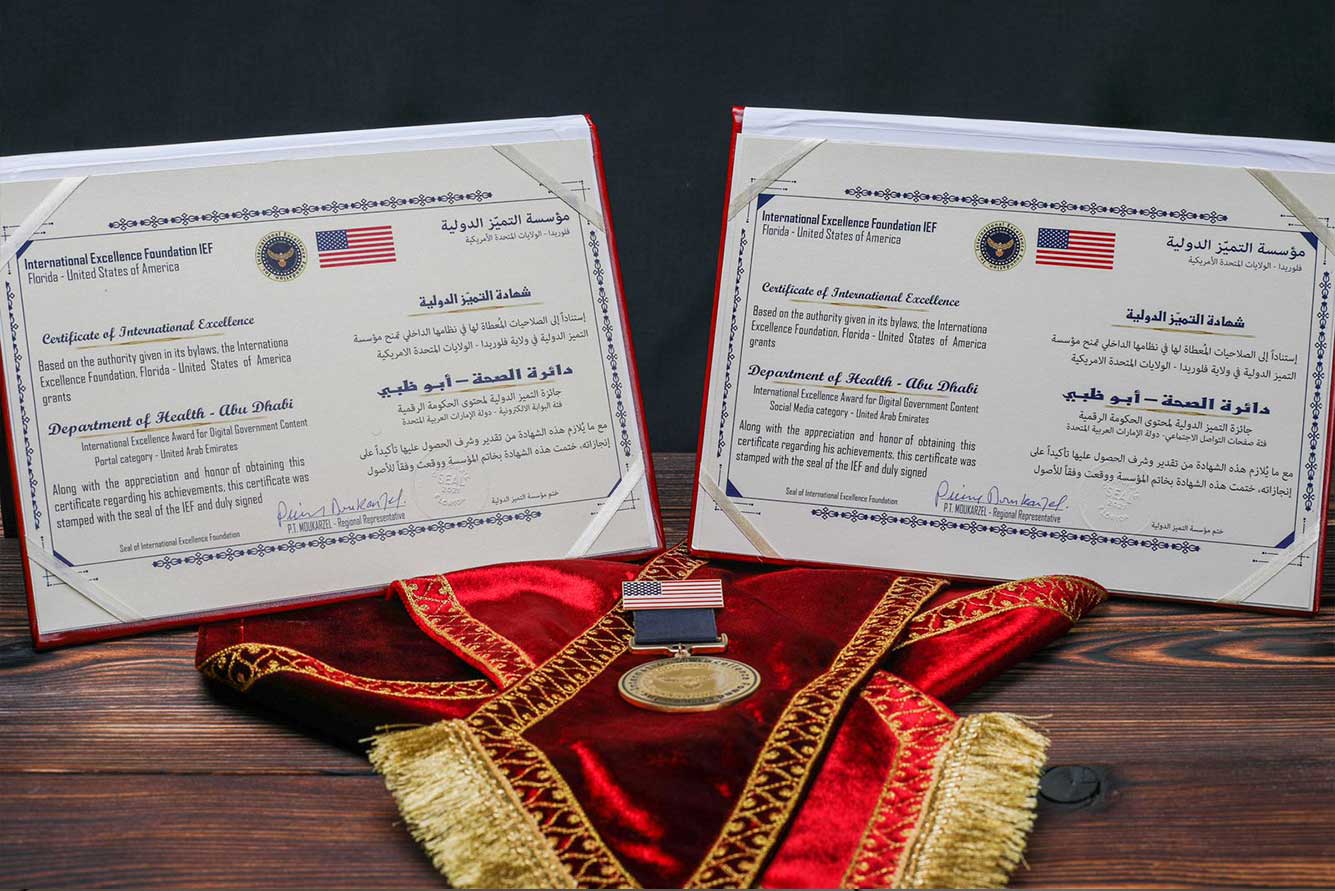 26 Dec, 2021: The Department of Health - Abu Dhabi (DoH), the regulator of the healthcare sector in the emirate, has received two awards at the International Excellence Awards for Digital Government Content 2021 which is run by the International Excellence Foundation.

DoH won best in the 'website content' category and 'social media content' category in recognition of its efforts to provide compelling and effective digital content in both Arabic and English. DoH was also recognised for using innovative ways to present content that would enable a wide audience reach. It was also commended for its focus on creating an enriching and seamless user experience across its digital media channels.

DoH has built advanced capability in editing and drafting content on its website and its social media channels to ensure they are in line with the best international media practices. The awards are seen as a testament to the creativity and diversity of content used to build awareness, especially through illustrations, videos and other visual content.
H.E Dr. Jamal Mohammed Al Kaabi, Undersecretary of DoH, said: "Receiving the 'International Excellence Awards for Digital Government Content' reflects our commitment to bring to life the wise vision of the UAE's leadership, which seeks excellence across the government ecosystem. Looking ahead, we will continue adopting the latest innovations and advanced technologies to allow DoH to enhance the digital experiences of our website users and social media channel followers. Ultimately, this will enhance the services we offer to the community and deepen the sophistication of Abu Dhabi's healthcare ecosystem."
H.E Al Kaabi added: "Today, we are witnessing a digital evolution across the world where people increasingly rely on digital media and social media channels as primary information sources. These tools become an essential part of their daily lives as a repository for practical advice and as a method of communication. As part of our vision for 'A Healthier Abu Dhabi', we see this as an opportunity to position both our website and social media channels as an essential reference point for the public for all matters related to health. Throughout the pandemic this has already proven to be a success, as DoH's media channels were used as a source of up-to-date and accurate information related to COVID-19."
DoH positions its website as a trusted and useful platform for all healthcare information that can be accessed by everyone in Abu Dhabi's diverse community. This can entail awareness brochures; the latest news and updates related to the COVID-19 pandemic; vaccination campaigns; epidemiological investigation; research studies; circulars; as well as the preventive measures imposed by DoH and relevant entities. The website also serves as a reference to all healthcare providers, healthcare professionals and investors as it contains regulatory information specific to Abu Dhabi's healthcare sector.
DoH uses its social media channels to engage with community members and to raise awareness about DoH initiatives and programmes aimed at ensuring the health and safety of residents as well as enhancing the quality of healthcare services in the emirate.
You can visit the Department of Health Abu Dhabi's website via the following link: www.doh.gov.ae and keep up with the latest developments through DoH's social media channels via @DoHSocial.
Last updated: 04 Oct 2022