News
DoH and Hayat Biotech sign MoU to boost the Emirate's Research and Development capabilities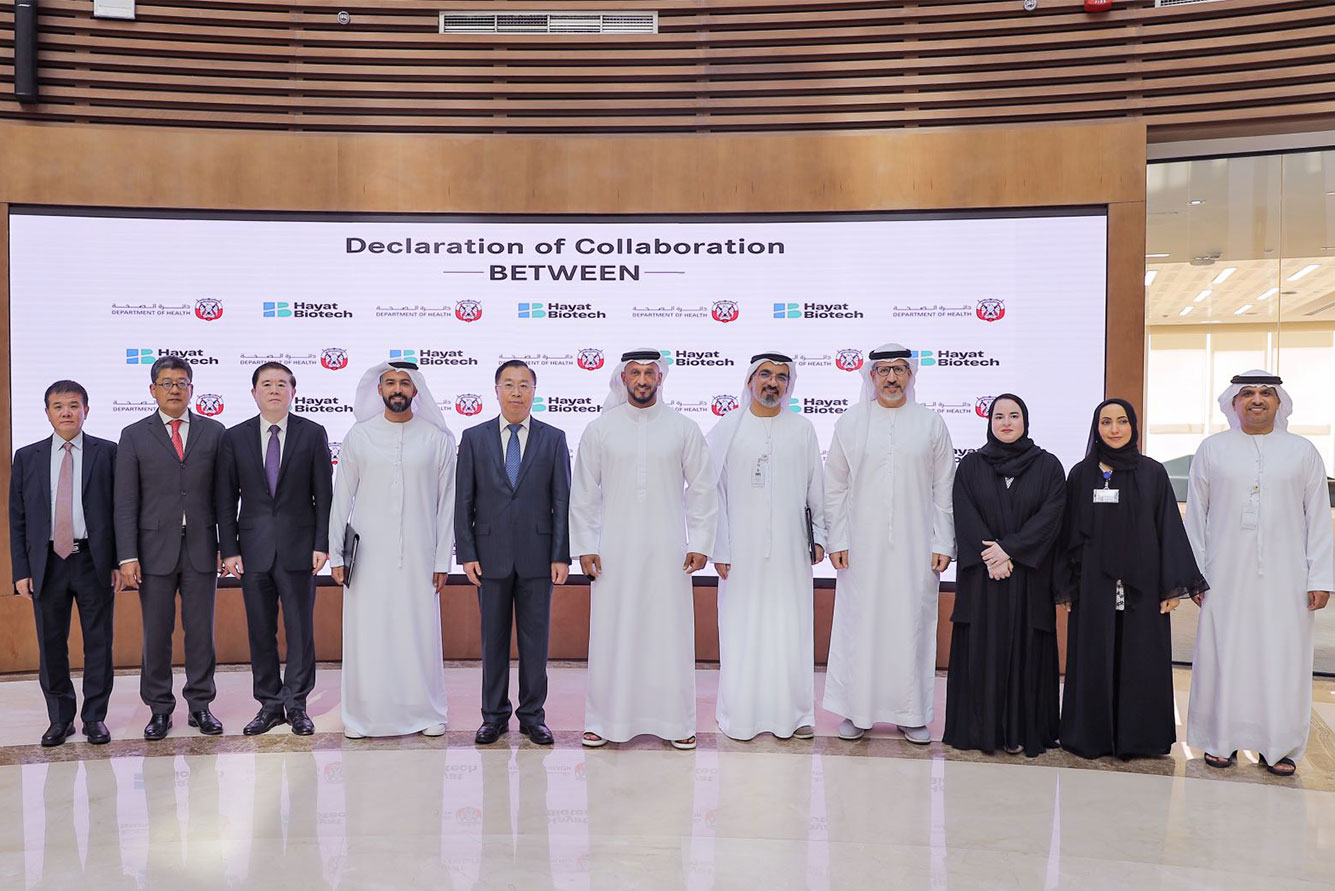 16 Jan, 2023:
Hayat Biotech, a joint venture between G42 and Chinese pharmaceutical group Sinopharm CNBG and the Department of Health – Abu Dhabi (DoH), the regulator of the healthcare sector in the Emirate signed a declaration of collaboration to kick off a collaboration between both parties aimed at strengthening the emirate's efforts in R&D, clinical research, and its manufacturing capabilities. The collaboration comes in line with the DoH's ongoing efforts to elevate Abu Dhabi's position as a hub for research and innovation in life sciences and a pioneering healthcare destination globally.
In attendance of HE Abdulla bin Mohamed Al Hamed, Chairman of DoH, and Liu Jingzhen, Chairman at Sinopharm CNBG, and Hongbin Cong, CEO at Hayat Biotech, the agreement was signed by HE Dr. Jamal Al Kaabi, DoH's Undersecretary and Nasser Al Yammahi, Deputy CEO at Hayat BioTech. It marks a commitment to collaborate on evidence-based clinical research, particularly towards fighting infectious diseases. Additionally, the MoU covers areas that include infrastructure, strategy, data sharing, and Intellectual Property (IP) generation.
Furthermore, one of the agreement's key areas is the knowledge transfer from experienced global players, as it also aims to inaugurate research laboratories and cement Abu Dhabi's position as a hub for research and innovation, offering innovative manufacturing and commercialising solutions, while addressing local and international healthcare needs and challenges.
His Excellency Dr. Jamal Mohammed Al Kaabi, Undersecretary of the Department of Health – Abu Dhabi, commented: "Under the directives of our wise leadership, Abu Dhabi has become a regional hub for research and innovation - bringing together researchers, experts and organizations from all over the world to enhance international healthcare outcomes. The Department continues to join forces with global industry leaders to exchange knowledge and experience for the benefit of the global community. Reiterating the Emirate's position as leader in life sciences and innovation, our partnership with Hayat Biotech and G42 seeks to elevate clinical research and manufacturing efforts as well as unlock the full potential of our national capabilities."
Hongbin Cong, CEO of Hayat Biotech commented: "Hayat Biotech is the product of a belief in the power of partnerships and collaboration. It started with G42 and Sinopharm CNBG joining forces to create the company, as we saw the strength of our combined areas of expertise. Now, our agreement with the Department of Health – Abu Dhabi is a clear demonstration of the crucial governmental support needed to achieve the nation's ambitions in the healthcare sector and the biotechnology industry. This MoU will leverage on technologies and frameworks within the healthcare sector, to fully take advantage of the industry's potential in the country. We're excited for the upcoming period and this new partnership and are we looking forward to announcing further progresses soon."
A homegrown UAE company, Hayat Biotech is vowed to support the development of the healthcare sector in the country, and the signing of the agreement with DoH, will emphasise the company's support, by expanding an area of collaboration on the discovery, development and commercialisation of pharmaceutical drugs and medical products. This process will be supported by a knowledge transfer approach, stemming from Sinopharm's strong experience, that spans for over a hundred years.
As part of its ambition to become a key regional and international player in the biotechnology industry, Hayat Biotech continues to broaden its international presence by consolidating its national efforts, highlighted with the milestone of agreement signing with DoH, reinforcing its competitive advantage. On a global level, Hayat Biotech continues its relentless efforts to expand partnerships, with its Contract Manufacturing Organization (CMO) status.
With a strategic location and state-of-the-art storage, and an efficient supply chain, Hayat Biotech is well positioned to be the ideal partner for global biotechnology organisations offering its clients close proximity to their regional market, through capacity sharing of its 200 million vials a year factory in the KIZAD, Abu Dhabi and its plant in Serbia, with a capacity of 30 million vials a year.
Last updated: 06 Dec 2023