News
DoH announced as one of the "Best Employer Brands on LinkedIn" for the MENA region, by the LinkedIn Talent Awards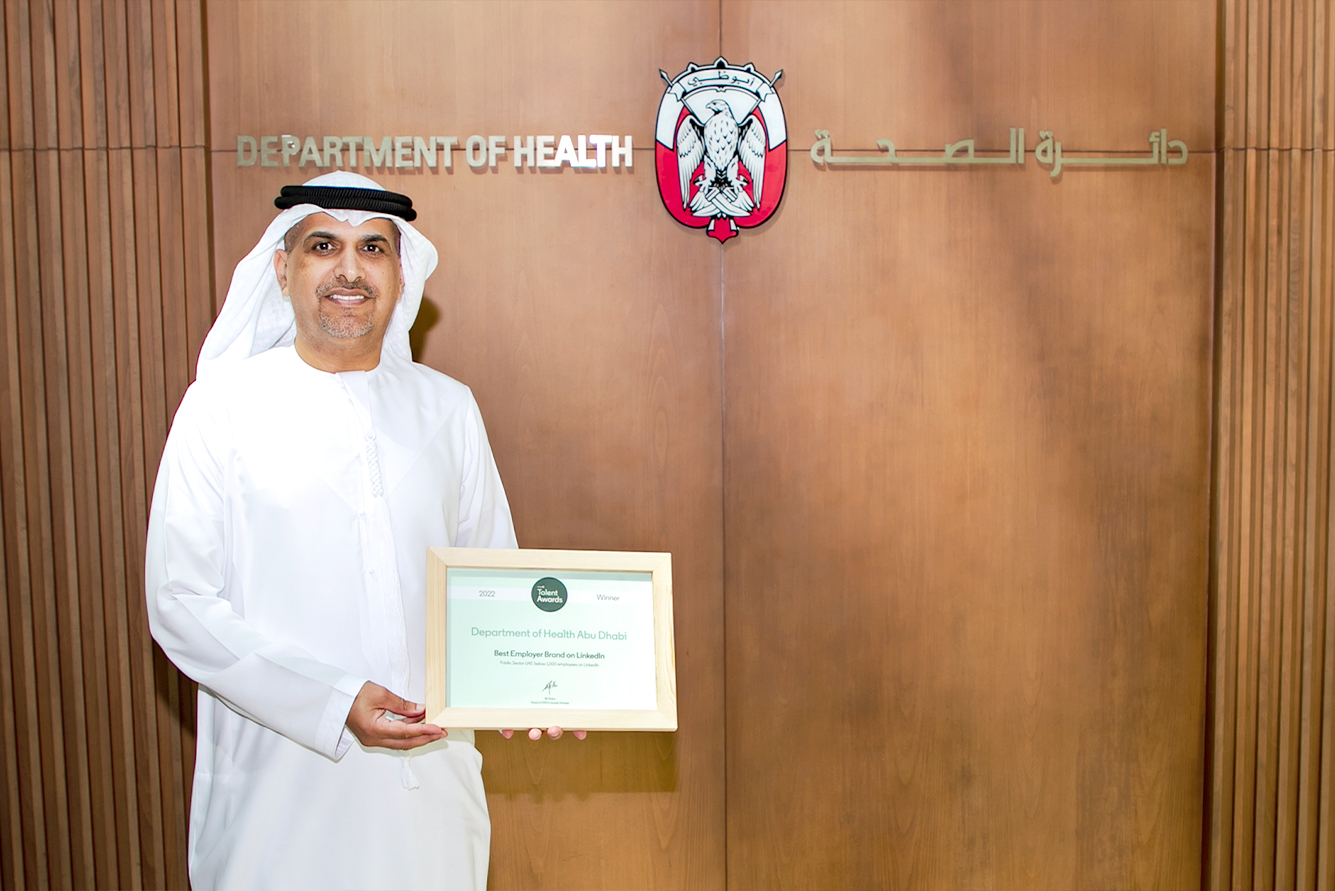 30 Mar, 2023:
In recognition of its strong employer brand and talent engagement on LinkedIn and its contributions to the "future of work", the Department of Health – Abu Dhabi's (DoH), the regulator of the healthcare sector in the Emirate, was announced as the "Best Employer Brand" on LinkedIn Public Sector UAE below 1,000 employees for the year 2022, by the MENA LinkedIn Talent Awards. DoH was amongst only nine winners of the "Best Employer Brands on LinkedIn" for the MENA region. The distinguished list of winners, included some of the most high-profile brands and leading employers in the MENA region, such as Careem, Emirates and NEOM. Winners of the LinkedIn Talent Awards are selected based on a number of criteria, including company page views, new followers, content engagement, and talent engagement with posts on the LinkedIn platform.
The LinkedIn Talent Awards celebrate organisations with a proven track record in building strong employer brands on LinkedIn. The award recognises DoH's success in engaging and nurturing talent. The awards are data-driven and based on specific and measurable indicators, including engagement, performance, results and impact.
Dr. Noura Al Ghaithi, Acting Undersecretary of the Department of Health – Abu Dhabi (DoH), said: "Being recognised by the LinkedIn Talent Awards as one of the best employer brands on LinkedIn, is a testament to our proven track record in attracting the attention of potential partners, industry peers, talents and the wider healthcare community.
The award reflects our commitment in effectively communicating the Abu Dhabi healthcare story to relevant stakeholders via the platform. As the regulator of the healthcare sector in the Emirate, we are continuously looking to showcase our brand, culture and ethos that are focused on promoting collaboration, innovation and creativity. Investing in attracting and retaining talent and initiating valuable partnerships are key pillars that continue to set the Emirate of Abu Dhabi apart as a leader in healthcare innovation."
Ali Matar, Head of LinkedIn MENA and EMEA Growth Markets, said: "As professionals navigate the massive change the world of work is going through, talent leaders in particular find themselves having to not only adapt to emerging trends, but also simultaneously shape these trends that will, ultimately, create the future of work. LinkedIn's Talent Awards this year will celebrate these leaders the LinkedIn customers who have stepped up to redefine the ways in which we all work."
More information on the winners of the LinkedIn Talent Awards for the MENA region, can be found in this link.
Last updated: 06 Dec 2023