News
The Department of Health – Abu Dhabi collaborates with the American Heart Association to enhance healthcare services for heart and stroke patients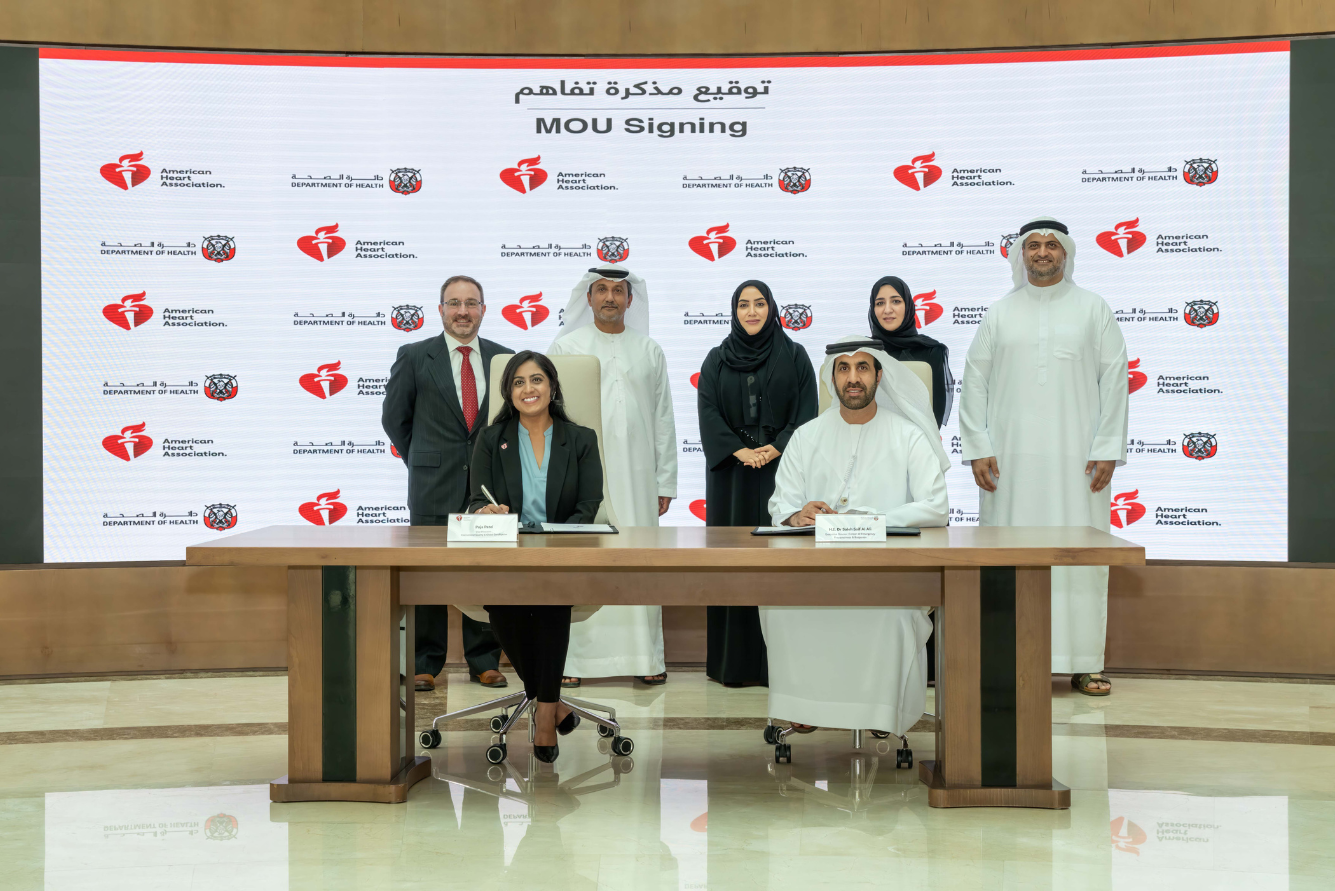 7 Nov, 2023:
The Department of Health – Abu Dhabi (DoH), the regulator of the healthcare sector in the Emirate, signed a Memorandum of Understanding (MoU) with the American Heart Association, the world's leading nonprofit organisation focused on heart and brain health for communities around the world. This partnership aims to enhance access to distinguished healthcare services for heart attack and stroke patients across Abu Dhabi to implement common treatment platforms to ensure patients are rapidly transported to and treated at the appropriate hospital.
As a testament to the Department's leadership in healthcare excellence, and cementing Abu Dhabi's position as a leading destination for healthcare, this collaboration is the Association's first agreement with a government entity outside the United States to adopt a healthcare 'systems of care' approach, integrating and optimising all steps and aspects of care.
In the presence of H.E. Dr. Noura Al Ghaithi, Undersecretary of the Department of Health - Abu Dhabi, Dr. Aysha Al Khoori, Executive Director Healthcare Facilities Sector at the Department of Health - Abu Dhabi, Dr. Mohammed Alkuwaiti, Consultant Neurologist at Tawam Hospital, Dr. Abdulmajeed Al Zubaidi, Consultant Interventional Cardiologist, Chris D'Esposito, American Heart Association Senior Vice President, Rami Khattar, MENA General Manager, Khaled Shkair, Senior International Program Manager, Mohammed Almzayen, Senior International Program Manager, and Julia Mora, International Director of Healthcare Quality and Certification from the American Heart Association, the agreement was signed by Dr. Saleh Al Ali, Executive Director of the Centre of Emergency Preparedness and Response (CEPAR) at the Department of Health – Abu Dhabi and Puja Patel, Vice President, International Quality and Global Certification at the American Heart Association.
The two parties will cooperate to integrate the Association's standards for chest pain and stroke centres to extend guideline-directed care for patients across their healthcare journey. The collaboration will focus on six components: stakeholder coordination, education, public awareness, sustainability, rehabilitation task force, and evaluations. These components will be delivered through a certification programme that will build on existing infrastructure, including the expertise of the Abu Dhabi Stroke and STEMI Task Forces and the Association, with its regional and international expert resources. Additionally, stroke and cardiac certifications will assist hospitals in improving patient care, differentiating themselves from competitors, and attracting top talent.
On this occasion, Dr. Saleh Al Ali, Executive Director of the Centre of Emergency Preparedness and Response (CEPAR) at the Department of Health – Abu Dhabi (DoH) said: "The Department of Health – Abu Dhabi (DoH) is committed to collaborating with global strategic partners and unifying efforts to further advance and accelerate access to quality care for patients in Abu Dhabi and around the world. Through this collaboration, we look forward to achieving excellence with the American Heart Association to advance our stroke and cardiology ventures, strengthen the Emirate's system of care for heart disease and stroke patients, and safeguard the health and well-being of the community."
Dr. DP Suresh, American Heart Association Volunteer and Executive Medical Director of the Florence Wormald Heart and Vascular Institute at St. Elizabeth – Cincinnati, Ohio commented: "The American Heart Association and American Stroke Association work with cardiovascular and neurology societies around the world to advance healthcare quality and improve access to care through a system of care approach. This collaboration, especially, is very important because healthcare quality is patient care quality. Our organisations believe that hospitals and patients will benefit from a coordinated certification programme that provides enhanced value."
The agreement will see both entities developing and implementing an awareness campaign on stroke and heart attack symptoms and the importance of calling emergency services. This collaboration aims to establish improvements and systems that can be sustained by DoH and its stakeholders, leveraging the Association's certification and quality improvement programmes as resources for all participating hospitals and EMS agencies.
The American Heart Association is dedicated to fighting heart disease and stroke and is a leading source of information on these diseases. For nearly a century, the Dallas-based organisation has been helping families and communities thrive. With an investment of more than five billion in research, the Association is the largest not-for-profit funding source for cardiovascular and cerebrovascular disease research next to the federal government.
Last updated: 06 Dec 2023