News
Department of Health – Abu Dhabi honours winners of first Healthcare Innovation Bootcamp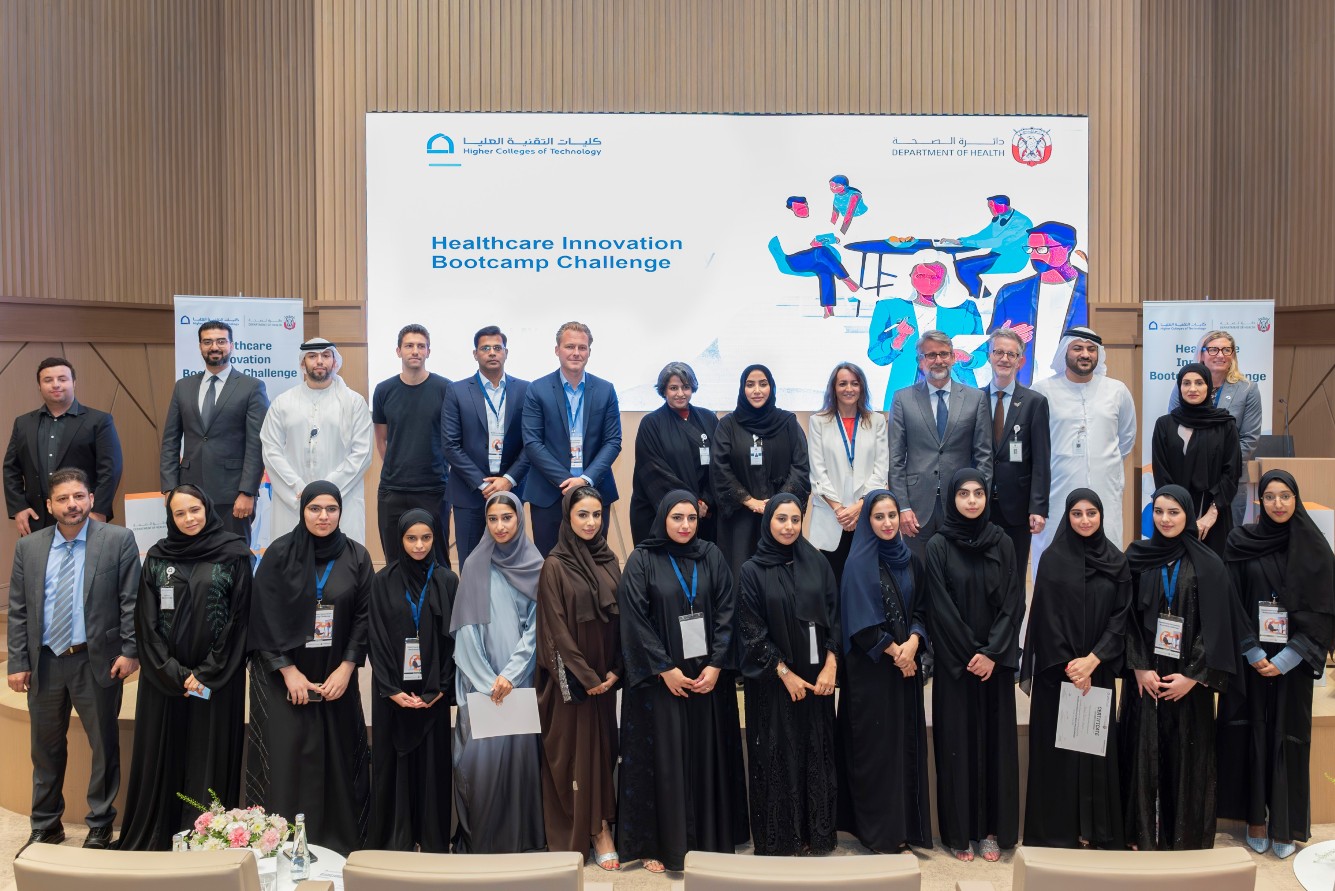 19 Jun, 2023:
As part of its role as an enabler for research and innovation, Department of Health – Abu Dhabi (DoH), the regulator of the healthcare sector in the emirate, has honoured the winners of the inaugural Healthcare Innovation Bootcamp.
The ceremony was held in presence of Her Excellency Dr Noura Al Ghaithi, Undersecretary of the Department of Health – Abu Dhabi. The inaugural four-day Healthcare Innovation Bootcamp challenge is the fruit of an ongoing collaboration between DoH and the Higher Colleges of Technology (HCT) to boost the emirate's entrepreneurial capacity, and was operated by Plug and Play Abu Dhabi. During the event, HCT students were able to demonstrate their innovations and innovative healthcare solutions.
During the bootcamp's closing ceremony, the winning proposal, which tackled medical tourism and connecting tourists with insurance companies in Abu Dhabi, was awarded by Her Excellency Dr Noura Al Ghaithi. As a reward for their innovative efforts, the winning team will now receive incubation support through the Abu Dhabi Global Tech Ecosystem.
The experiential four-day Bootcamp in Abu Dhabi saw selected students from HCT's Abu Dhabi and Al Ain campuses creatively develop and design innovative solutions to society's real-world challenges within the healthcare sector in specific medical fields, covering primary care (comprehensive, continuous services for all patients), precision medicine (personalised patient plans for optimised outcomes) and smart hospitals (advanced technologies for improved, high-quality in-patient services).

In the field of primary care, students were tasked to devise workable solutions to ameliorate current models of continuous and coordinated patient-centric healthcare services to all patients, particularly at the beginning of the patient's treatment journey. While the fields of precision medicine and smart hospitals had students delving into the growing sectors of digital health technologies, AI, robotic automation, telemedicine, genomics and more, to provide rapid testing, treatment, and outcomes for patients, while providing innovative and holistic healthcare to members of the community.
Her Excellency Dr Noura Khamis Al Ghaithi, Undersecretary of DoH, said: "The Healthcare Innovation Bootcamp is a continuation of our collaboration with the Higher Colleges of Technology, to incubate start-ups and provide a holistic entrepreneurial ecosystem in the emirate. At DoH, we believe in the abilities of young talents, and their innovative capacities, which help us in shaping the future of healthcare and accelerate innovation across all levels within the sector. This comes in line with our continuous efforts to cement Abu Dhabi's position as a global hub for innovation and life science.
"Following the directives of our wise leadership, DoH is relentlessly working on attracting investments and encouraging entrepreneurs to expand their scope of work and their innovations, by providing a unique and nurturing environment. The bootcamp reflects our commitment to work with our partners across the globe, to build a future-proof healthcare sector while utilising innovation to create new solutions to solve healthcare challenges and improve the quality of healthcare in the emirate and around the world."

Dr Faisal Al Ayyan, HCT President and CEO, said: "This bootcamp has empowered our students to interpret, ideate and ultimately innovate healthcare solutions for the benefit of society, in a completely hands-on, experiential and immersive learning experience. Through collaborations, such as this bootcamp, we are nurturing a culture and mindset of innovation, which is part of the thinking, work and objectives of HCT and our students. We see these initiatives as sources of inspiration for the youth to build their future with science, knowledge, innovation and creativity.
"We see innovation and entrepreneurship tied closely with education, where they are interwoven into our DNA. We are delighted to see our students being constantly inspired during their academic journey by these innovative endeavours."
Saeed Amidi, CEO and Founder of Plug and Play Tech Center, said: "We are proud to have partnered with the Department of Health – Abu Dhabi and HCT to operate the inaugural Healthcare Innovation Bootcamp. This programme has showcased the immense talent and innovative capacity of the HCT students, and we are excited to support the winning team on their entrepreneurial journey. At Plug and Play, we believe in fostering collaboration and providing the necessary resources to drive innovation. We look forward to continuing our efforts in building a thriving technology hub for healthcare innovation in Abu Dhabi."
The HCT students, who came from a range of academic disciplines, actively participated in a series of workshops and preparatory sessions, keynote speeches, and mentoring sessions. Participants had the opportunity to learn from experienced professionals and sector leaders, leading to the event's closing Pitch Day, where they demonstrated their mettle and resolve in front of a judging panel.
Last updated: 06 Dec 2023