News
H.E Abdulla Al Hamed visits the COVID-19 vaccination centre at NMC Royal Hospital Khalifa City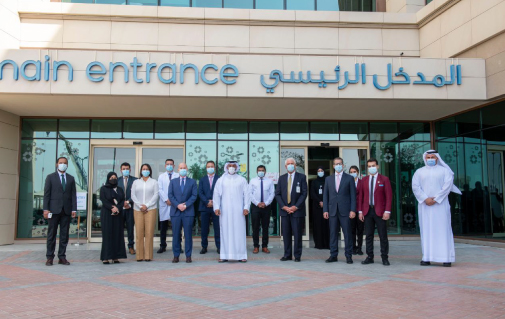 8 Feb, 2021: H.E. Abdulla bin Mohammed Al Hamed, Chairman of the Department of Health – Abu Dhabi (DoH), visited the COVID-19 vaccination centre at NMC Royal Hospital Khalifa City, to review the work progress and efforts made to ensure facilitating the vaccination procedures for all members of the community and ensure their health and well-being.

Accompanied by Michael Brenden Davis, Chief Executive Officer at NMC Healthcare, H.E. toured the COVID-19 vaccination centre at the hospital, which includes designated areas for pre-vaccination consultations and qualified and trained medical personnel to provide the vaccine on a daily basis to hundreds of people.
H.E. Al Hamed stated that the vaccine is our practical choice to take fast and steady steps towards curbing the COVID-19 pandemic. To that end, we are dedicated to intensifying our efforts to provide all the means to make the vaccine available for the UAE population. H.E praised the unwavering efforts of all medical cadres, administrative and technical staff of NMC Royal to ensure the health and well-being of all members of the community and contribute to fighting this pandemic. H.E also highlighted the vital role of the private healthcare sector and support in fighting the challenges and curbing the spread of the COVID-19 virus.

H.E. urged the community members especially the most vulnerable groups who are more prone to COVID-19 complications to take the vaccine, to protect themselves, their loved ones and everyone around us. The vaccine is currently available in more than 100 centres across the emirate.

The NMC's vaccination centre provides COVID-19 vaccine to citizens and residents all week long. Appointments can be booked to get the vaccine by calling the call centre of the hospital.