News
DoH and MSD GCC expand partnership during BIO International Convention 2023 to advance research in Oncology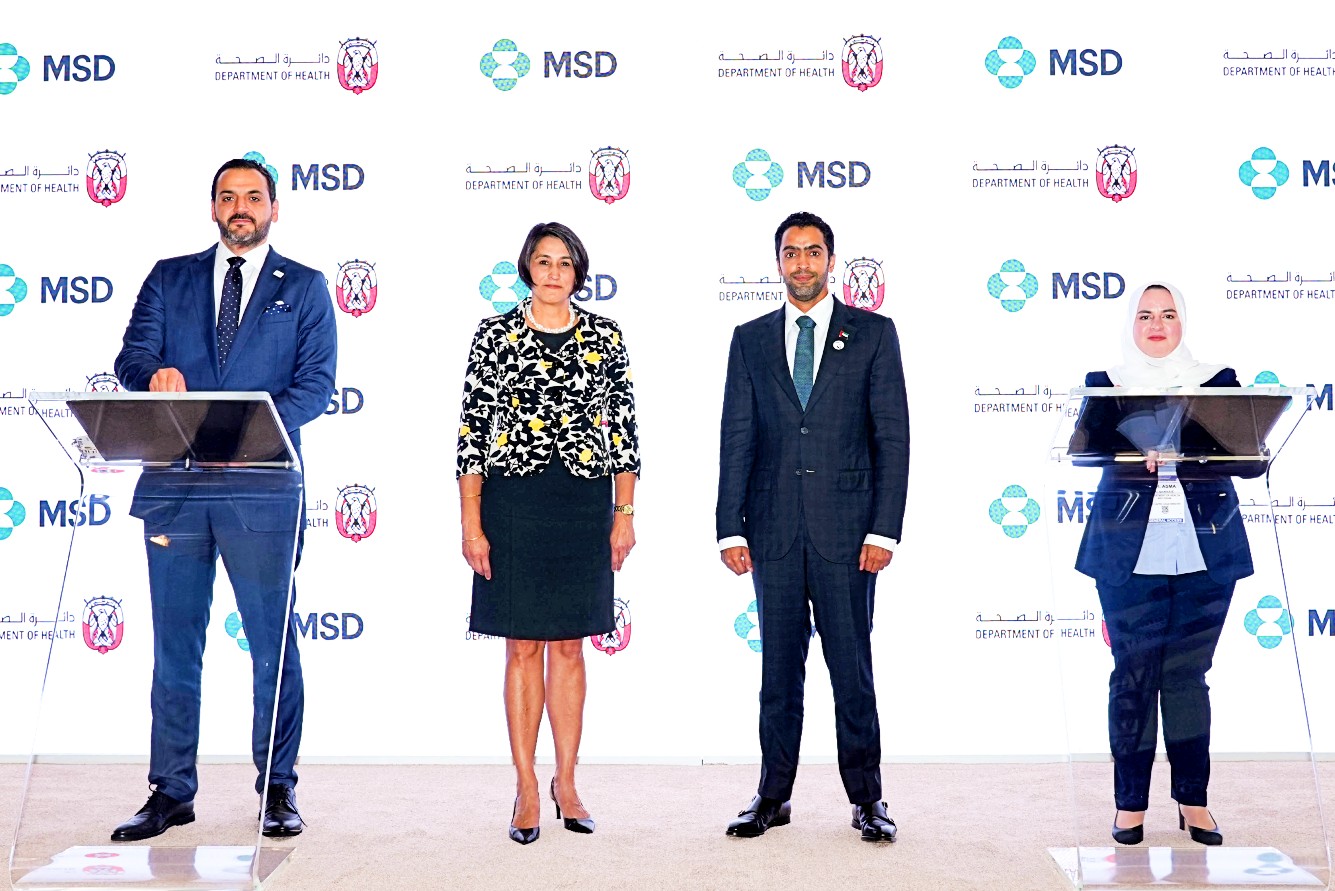 5 Jun, 2023:
The Department of Health – Abu Dhabi (DoH), the regulator of the healthcare sector in the Emirate, signed a new Memorandum of Understanding (MoU) with leading global biopharmaceutical company MSD GCC, to advance research into breast and lung cancer.
In the presence of H.E. Mansoor Al Mansoori, Chairman of the Department of Health – Abu Dhabi and Jenelle Krishnamoorthy, VP Global Public Policy and Government Relations at MSD, the MoU was signed by Dr. Asma Ibrahim Al Mannaei, Executive Director of the Research and Innovation Center at the Department of Health – Abu Dhabi (DoH) and Ashraf Mallak, Managing Director of MSD GCC, on the sidelines of the BIO International Convention 2023, which is being held from June 5-8 in Boston, United States. The agreement marks the continuation of a long-term collaboration between the two entities to advance observational research in Abu Dhabi.
Within the framework of their renewed partnership, the two parties will work together to initiate two observational research studies in the field of oncology, explicitly targeting non-small cell lung cancer (NSCLC) and triple-negative breast cancer (TNBC). The studies aim to advance the ability to address the healthcare challenges associated with these diseases and improve patient outcomes.
Dr. Asma Ibrahim Al Mannaei, Executive Director of the Research and Innovation Center at the Department of Health – Abu Dhabi (DoH) said: "As we navigate the complexities of healthcare challenges, we remain focused on expanding collaboration with global partners who share our vision of advancing healthcare for all. Under the directives of our wise leadership, we are proud to renew our cooperation with MSD GCC, a long-standing partner that has been part of the Emirate's healthcare journey. Through this agreement, we will leverage collective expertise, resources and knowledge to address pressing healthcare challenges."

Dr. Al Mannaei added: "Abu Dhabi is leading the transformation of the regional healthcare ecosystem by leveraging sciences and technology, positioning itself as a life science hub and an incubator for innovation on the global stage. Our research will pave the way for innovative treatments and interventions while fostering breakthrough diagnosis and solutions for patients around the world."
Commenting on the agreement, Ashraf Mallak, Managing Director of MSD in the GCC, said: "The Department of Health Abu Dhabi has had exceptional efforts in establishing a healthcare system that stands as a global model of innovation and sustainability. Their forward-thinking approach, embracing advanced technology and fostering research and development, has led to the advancement of public health in the Emirate."
He continued: "It is with great pride that MSD joins hands with the DoH at the BIO Convention. With this renewed collaboration, we are embarking on two important observational research studies in two prevalent cancers in the UAE: lung and breast cancer. Through these studies, we aim to make a meaningful impact on patient outcomes and contribute to the UAE's vision for healthcare. This agreement reaffirms our commitment to driving medical progress to benefit patients in UAE."
During the signing, DoH and MSD reiterated the importance of public-private partnerships to have a meaningful impact on the enhancement of healthcare services, with such collaborations bringing together the entities' collective expertise and resources in medical research and patient care. The studies conducted by DoH and MSD will commence following a feasibility stage that ensures the necessary preparations are in place.
Dr. Ahmed Yosry, Senior Medical Director, MSD GCC said "Initiating Real World Evidence studies in Abu Dhabi, in alignment with the Department of Health's vision to establish a world-class life sciences hub, will allow the scientific community to better understand disease burden, patient characteristics and treatment patterns."
He added: "Observational research through properly designed and executed studies in Breast and Lung cancer can unravel unseen aspects of the disease landscape. This milestone will support healthcare institutions to make well-informed strategic decisions, hence elevating their capabilities and ultimately helping to improve cancer care in the Emirate."
Led by the Department of Health – Abu Dhabi (DoH), a high-profile Abu Dhabi delegation is visiting the United States of America (USA) between June 1st, 2023 and June 8th, 2023 to showcase the Emirate's partnership opportunities and explore collaboration with leading organisations in Research and Development (R&D), manufacturing and innovation. Kicking-off in Washington DC, delegates have met with existing partners and foster fresh collaboration with governmental bodies and health-tech giants. The transnational mission has culminated in Boston, coinciding with Abu Dhabi's participation at BIO International Convention 2023 to exhibit the Emirate's growth and development of its biotechnology industry. The participation has witnessed in-depth discussions, shared insights and expertise as well as explored collaborations in health-tech, life science and innovation.
Highlighting the rich diversity and expertise within Abu Dhabi's ecosystem, the Delegation comprised of 12 key entities including the Department of Health – Abu Dhabi (DoH), Abu Dhabi Investment Office (ADIO), Etihad Cargo, KEZAD Group as part of Abu Dhabi Ports (AD Ports), Acino as part of Abu Dhabi Developmental Holding Company (ADQ) G42 Healthcare, M42, Mubadala Investment Company, Sheikh Shakhbout Medical City (SSMC), Pure Health and Daman. The Abu Dhabi delegation brings together over 46 prominent stakeholders from diverse sectors, exemplifying the region's commitment to innovation, knowledge exchange and international collaboration.
Abu Dhabi continues to work in unison with global strategic partners to set the stage for a future driven by healthcare technology, innovation, and artificial intelligence, as part of its transformation strategy to further enhance healthcare outcomes. The Emirate is working closely with key global players in the biopharmaceutical industry to boost local and global capabilities in life science and real-world evidence, digital health and supply chain, cementing its position as a leading destination in healthcare.
To know more about the mission, visit:https://www.doh.gov.ae/en/Abu-Dhabi-a-regional-life-science-hub
Last updated: 06 Dec 2023