News
DoH announces the winners of the Healthcare Research and Innovation Grant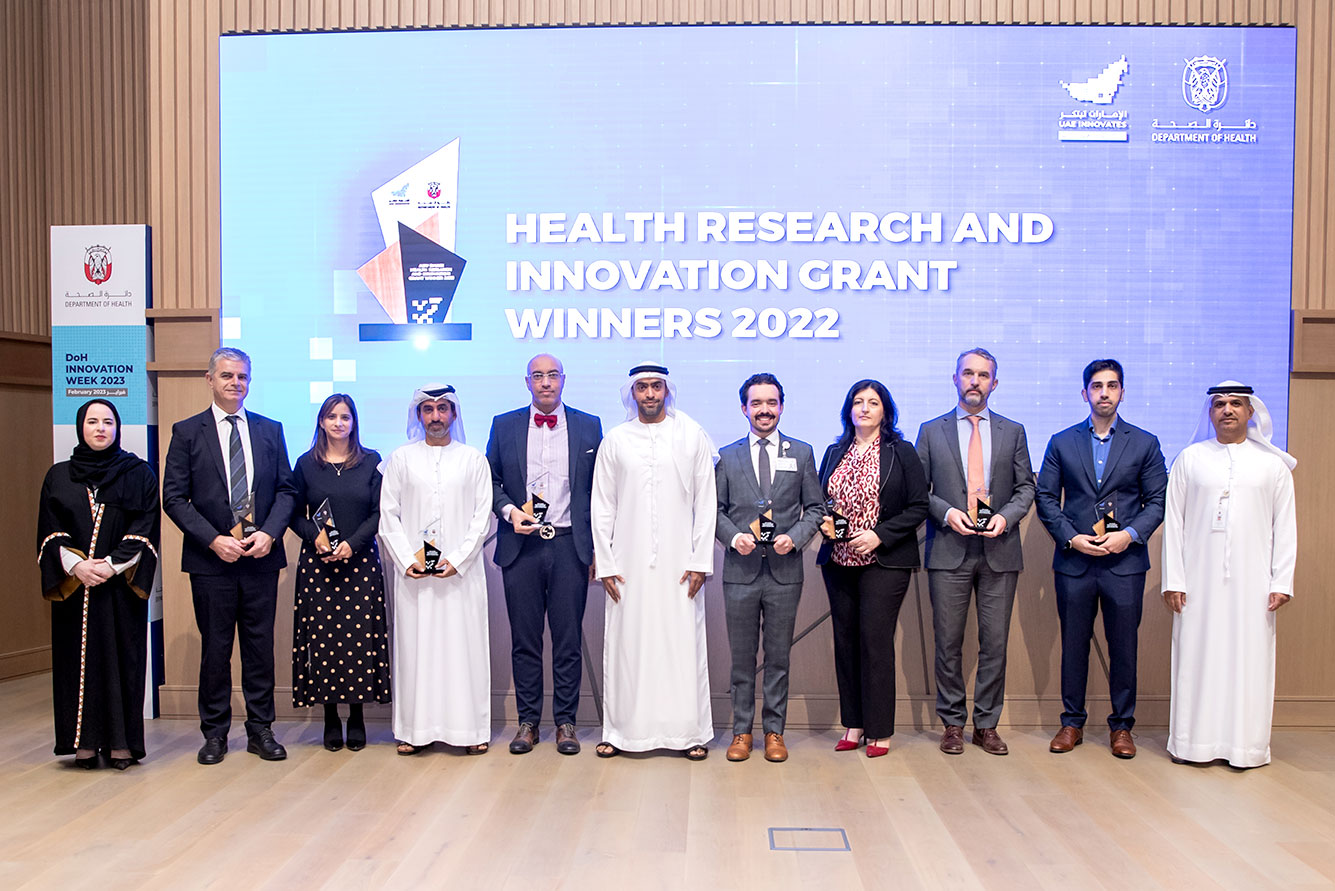 24 Feb, 2023:
In reflection of its role as an enabler for research and innovation, the Department of Health – Abu Dhabi's (DoH), the regulator of the healthcare sector in the Emirate, announced the first batch of winners for the Healthcare Research and Innovation Grant. Reiterating Abu Dhabi's position as a leading destination for innovation in healthcare, the Grant awarded the top eight leading submissions with a monetary prize, during the awards ceremony that took place during DoH's Innovation Week, held at the Department's headquarters.
H.E. Mansoor Ibrahim Al Mansoori, Chairman of the Department of Health – Abu Dhabi handed the awards to the winners of the Healthcare Research and Innovation Grant, in the presence of Dr. Rashed Al Suwaidi, Executive Director of Healthcare Workforce Planning at DoH and Dr. Asma Al Mannaei, Executive Director of the Research and Innovation Centre at DoH.
Since its launch in September 2022, the Grant received over 70 complete submissions including 50 entries on research and the other 20 cover innovations and/or Proof of Concept (PoC). The eight winning entries included a total of six research submissions by each of Burjeel Medical City, Tawam Hospital, SEHA, Sheikh Shakhbout Medical City Abu Dhabi (SSMC) and Cleveland Clinic Abu Dhabi. In addition to two innovations/proof of concept (PoCs) from SSMC and SEHA. As part of the award, the winners will have the opportunity to conduct clinical trials and commercialise their ideas with the support of DoH's Research and Innovation Centre and other leading partners from across the Emirate's healthcare sector.
Dr. Asma Al Mannaei, Executive Director of the Research and Innovation Centre at the Department of Health – Abu Dhabi (DoH), said: "Under the directives of the UAE's wise leadership, we are proud to witness Abu Dhabi birth leading research and innovations that ultimately drive better healthcare outcomes and elevate operations across all levels. Since the launch of the Research and Innovation Grant, our team has reviewed over 70 entries that tackle different areas of healthcare and introduce valuable insights on some of the most pressing healthcare challenges. We are delighted by the number of participants and proposals we have received, which reflects the dedication and capabilities we have in Abu Dhabi today. Reinforcing Abu Dhabi's position as a leading destination for life sciences and innovation, the Department of Health - Abu Dhabi remains committed to enabling and supporting research across all dimensions of healthcare including Artificial Intelligence (AI), medical devices, digital platforms and more. Today, we celebrate eight winners who have met the requirements and submitted unique projects that support the development of the Emirate's healthcare services. At DoH, we continue to work towards establishing a dynamic, reliable, and agile healthcare system that allows healthcare professionals to fully contribute and actively partake in developing a healthier Abu Dhabi."
The winning proposals were submitted by eight healthcare professionals that featured outstanding ideas and focused on different topics including, "Genetic and hematologic determinants of outcomes in β-thalassemia: the Abu Dhabi Emirate Thalassemia Longitudinal Cohort (AD-TLC)" by Dr. Khaled Musallam, "Multimodal screening for mild cognitive impairment and dementia in the adult population" proposed by Dr. Miklos Szolics and a submission titled "A randomized trial of integrating whole genome sequencing into the management of hypercholesterolemia in Emiratis" submitted by Dr. Abdulmajeed Al Zubaidi.
Additionally, Dr. Shahrukh Hashmi presented his project under the title of "Predicting Graft-versus-host-disease in stem cell transplant recipients from known and presumed risk factors using machine learning algorithms", where Dr. Juan S. Barajas Gamboa, proposed the "Understanding Endothelial Cell Dysfunction for the Development of Alternative Immunotherapy for Cardiovascular Complications in Diabetes Mellitus" proposal and Dr. Fady Geara presented his project in "Advanced Biomonitoring of Patients Receiving Radiation Therapy Using Personalized Sensors and, Artificial Intelligence: Development of A Predictive Model of Patient Function and Quality of Life". Finally, Dr. Asma Deep submitted the "Local Proof of Concept of Evira in Abu Dhabi Study" proposal and Dr. Salem Saeed Al Dhuhoori's submitted his application under the title of "Dental ID: Age Assessment Software."
All entries were evaluated by a specialised committee of 11 members, led by Dr. Asma Al Mannaei, Executive Director Research and Innovation Centre at the Department of Health – Abu Dhabi (DoH).
Launched earlier in 2022, the Grant translates DoH's continuous efforts to leverage science and technology in order to establish a knowledge-based economy and support the Emirate's endeavours in positioning itself as a leading life science hub in the region.
DoH launched the Grant to encourage a culture of research and innovation among healthcare professionals, promote clinical research, increase the amount of intellectual property (IP) generated in Abu Dhabi and leverage advanced platforms for clinical research in the Emirate. As well as enhancing national capabilities in clinical research and support precision and personalised medicine.
Notably, DoH's Innovation Week 2023 has witnessed the participation of many entities from the wider healthcare ecosystem in Abu Dhabi. The event has also seen a demo day, held at the Department of Health – Abu Dhabi's virtual office in the Abu Dhabi Life Sciences Hub in the Metaverse; combining both start-ups and investors in the same virtual space.
Last updated: 30 Mar 2023